The Grant of the CONFIO trustmark involves payment of a yearly fee for the committed entities. The Trustmark's charge varies depending on how much the entity generates in yearly revenues an will be always released and updated in www.confio.pt.
Fee Schedule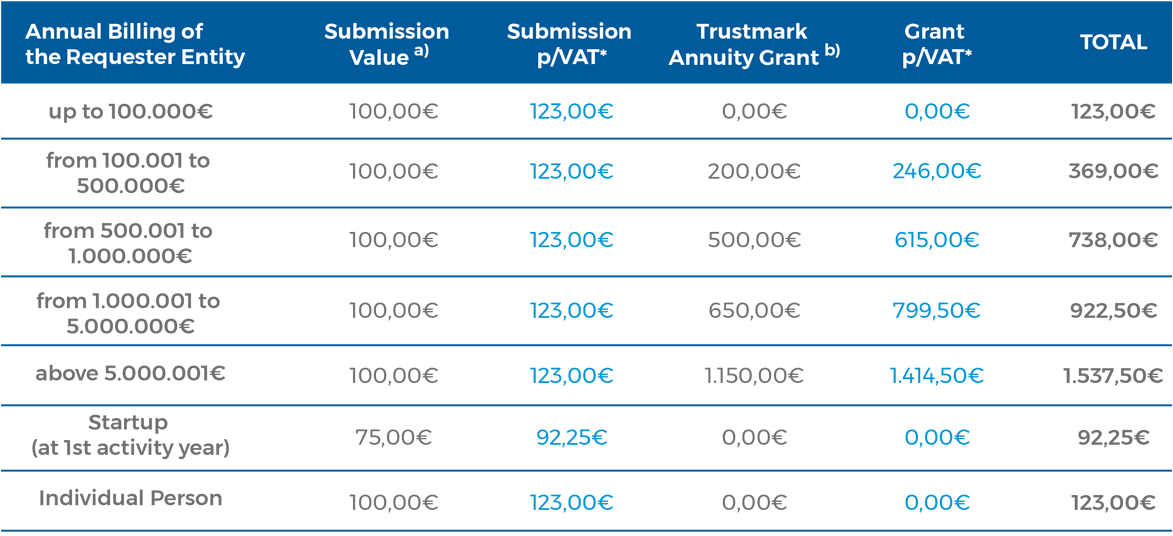 Notes:
* The VAT rate identified above may vary depending on the criteria and conditions set forth in the applicable law (For calculation purposes, the VAT considered was the applicable in Continental Portugal, as of January 2017).
For payment purposes, to the entities included in the structure of public administration is applied the price of the applicant entities with annual billing between €100,001 and €500,000.
Payment
Fees higher than 100 euros + VAT will be paid in two phases:
a) Initial request submission, at the value 100 euros + VAT, this payment is non-refundable and is independent of the result of the audit.
b) Remaining value to be paid when the trustmark is granted.
Renewals
In terms of price and payments, in renewals are applied the same conditions of initial submission.
Discounts
Discounts are applicable if the entity in question owns more than one website that is requesting accreditation with the CONFIO trustmark:
a) 10% – 2 to 5 accredited sites
b) 20% – more than 6 accredited sites
Entities that promote the CONFIO trustmark can hold promotional campaigns for their associates and other campaigns designed to project CONFIO.pt which can be published on the www.CONFIO.pt website according to the following rules.